School of Caring Economics
Working towards building an economic model based on care for people and for the planet
WHAT WE ARE ALL ABOUT ….
Caring Economics is about economic policies that care for people and for the planet. The model of Caring Economics is focused on maintaining, continuation, and repairing the world in which we live, in order to improve quality of life for all in a sustainable way, leaving no one behind. The coronavirus outbreak reveals that care is a deeply rooted universal human value that works in times of profound crisis, when people are taking responsibility, acting in solidarity and caring for themselves and for others who need help. If we build our future economic model on the universal value of the caring human being, instead of the 'homo economics', we will get a completely different world that increases happiness and quality of life instead of Gross National Product.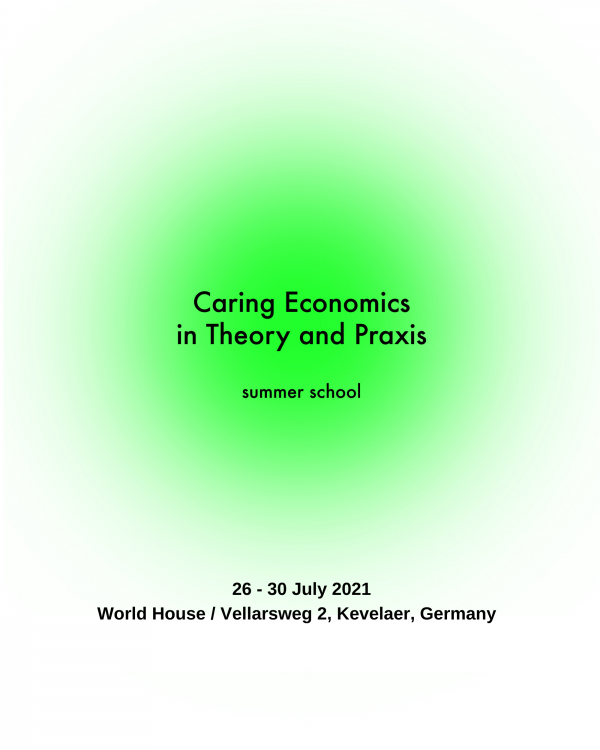 Summer School
The Summer School is a 5 day event organised by the School of Caring Economics along with Leapfrog2SD. The event will take place at World House Wetten and  incorporate presentations, lectures, lively discussions & activities to shape the economies of the future.
This is a dynamic event designed to bring clarity regarding the world we live in from an economic perspective and to spark discussion & creative thinking about the changes that need to be made in our thinking, working, living, consumption habits, use of resources – almost every aspect of human life.
The places are limited as we aim to create a community-like atmosphere where everybody can voice their opinion and can be heard. We have invited speakers in several different fields who will tell us about the current economic paradigm, why it is unsustainable and how it will need to change in order to accommodate for a healthy planet and social communities.